Your Story Here!
Flint is a city of many cultures, all coming together from around the world. People who have seen the world usually have a lot of stories to tell. This weekly series, brought to you by the ICGF, will display perspectives of  immigrants, international students, and Flint residents who have spent time abroad.
If you are interested in being featured in our profile postings, please contact Kon @ internationalcenterflint@gmail.com
NICKXIT BHARDWAJ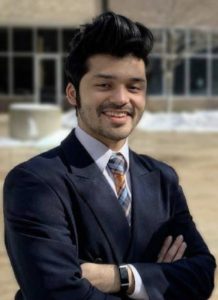 1. Where are you From?
Himalayas In India, Himachal Palampur.
2. What is your ethnic background
Indian.
3. Before coming to America, what did you know of Flint?
I knew about the automotive industry, the crime, and the water crisis.
4. Why did you come to Flint?
I got accepted to the University of Michigan - Ann Arbor, but Flint provided me with more scholarships and opportunities. I found I fit into the entreprenurial spirit and community service. I got accepted into Florida U and San Jose, but I chose Flint for the idea of it, and the Michigan degree. "Building a reviving commiunity" was a quote I saw on the Univeristy's webiste that inspired me to contribute to Flint.
5. Before you came to Flint, what were your expectations?
From Flint and the USA, in general, I was concerned of the gun violence. I remember hearing about two Indians shot in a hate crime 10 days before I was due to arrive. But I was hopeful, because of the Flint campus. 
6. When you came to Flint, what were your first experiences?
Actually, those were good. Except my flight got delayed. Lack of transportation and nearby public services were a hidnerance. But on the bright side, I met some German exchange students, I had a very welcoming university staff. Something crazy was the lack of Bazaars. You could wake up early and walk nearby to get eggs from Bazaars. I would wake up in the morning and the only thing open was a University Pavilion pizza shop. 
7. What is one thing you like to do in Flint?
Being part of the performing arts. Going to the bars with friends, going to the art galleries, and art walks.
8. What is one thing you like about Flint?
I think that being part of the entreprenurial and reinvestment aspects of Flint is rewarding. 
9. What is one thing you dislike about Flint?
Two things: I wish Flint had more college students so we could have more college spirit. If it was cheaper, students would live here. It would be a much more vibrant place. I don't feel like the government even does much for Flint.
10. What cultural aspects differentiate Flint from the culture back home? 
I think the close knit community back home differs from Flint. Back home if something happens, people are there to help. People are more open minded back home, in general: I feel people here are stuck to their own values, but I have met many open minded people all the same.